Experience Japanese hot spring in Inunakisan which is the only hot spring village in Osaka.
Enjoy Kaisekiryori or traditional Japanese meal at a historic Japanese inn.
Experience Japanese culture such as Origami, Karuta, Watercolor painting, Calligraphy and others.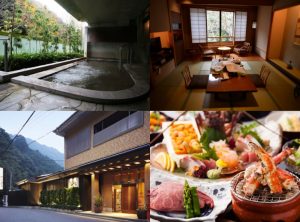 Itinerary
Izumisano station (Nankai Railway) -> take a hotel bus -> Inunakisan -> Japanese inn -> Bathe in hot spring -> Enjoy Kaisekiryori (Traditional Japanese cuisine) -> Experience Japanese culture
Meeting Point
Izumisano station (Nankai Railway)

→Izumisano Sta. 10:30 pick up;  Hineno Sta.(JR) 10:45 pick up

Guide fee
¥12,000/group (up to 6 persons, children under 2 are free of charge.)
Tour duration
approximately 4 hours
Minimum Guest Count
2 persons (Max. 6 persons) reservations are needed
Ending Point
Hotel Departure 14:30 →  (Hineno Sta. (JR)  →  Izumisano Station (Nankai Railway))
Note
Public bath (no private baths)

The price of meal: ¥6,000 (incl. tax Mon to Sat),  ¥8,000 (incl. tax Sun, Holiday)
A guide will accompany you to and from the station and explain the surrounding areas or nearby region.

Pleasee pay for your guide's admission fee and transportation fare.