Visit Japan Heritage Site: Jigenin Temple and Hine Shrine.
Jigenin Tahoto is the only National Treasure in Izumisano. Enjoy the beautiful moss garden.
Hine Shrine has a long history and "Makura-Matsuri" or Pillow Festival is held here in May every year.
Make a miniature tatami-mat at Kajino Tatami Shop.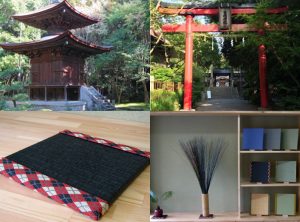 Itinerary
Hineno station (JR)  → Take a bus → Jigenin Temple → Hine Shrine → Kajino Tatami Shop: Experience making a miniature Tatami mat. → 

Hineno station (JR)

Meeting Point
Hineno station  (JR)
Guide fee
¥9,000/group
Tour duration
approximately 3 hours
Minimum Guest Count
2 persons (Max. 6 persons)
Ending Point
Hineno station  (JR)
Note
Admission fee to Jigenin (¥200) and experience fee at Kajino Tatami shop (¥2,000, No discount for children) are required. Transportation fare is not included.

Pleasee pay for your guide's transportation fare.

Reservations are needed.