Koyasan Tour Training 1st Day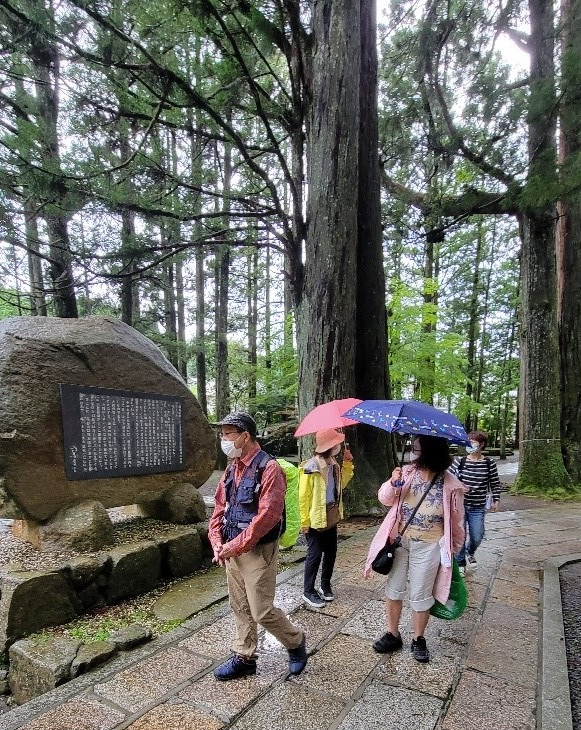 It is the first Training Tour for Izumisano Guide Association to go to Koyasan.
Koyasan is a big religious town opened on a mountain top at 900m above sea level.
Designated as a World Heritage Site, it attracts many visitors from all over the world.
On the first day, we will visit Okunoin, and stay at a Shukubo temple.
Cable Car:
W red care used "Koya Express" of Nankai Railway to go to Gokurakubashi station.
Then we took cable car for 5 minutes ride to reach Koyasan Station on the top of the mountain.
The cable car is he fourth generation, bran new red car which passes the 650m point of the same height of Tokyo Sky Tree.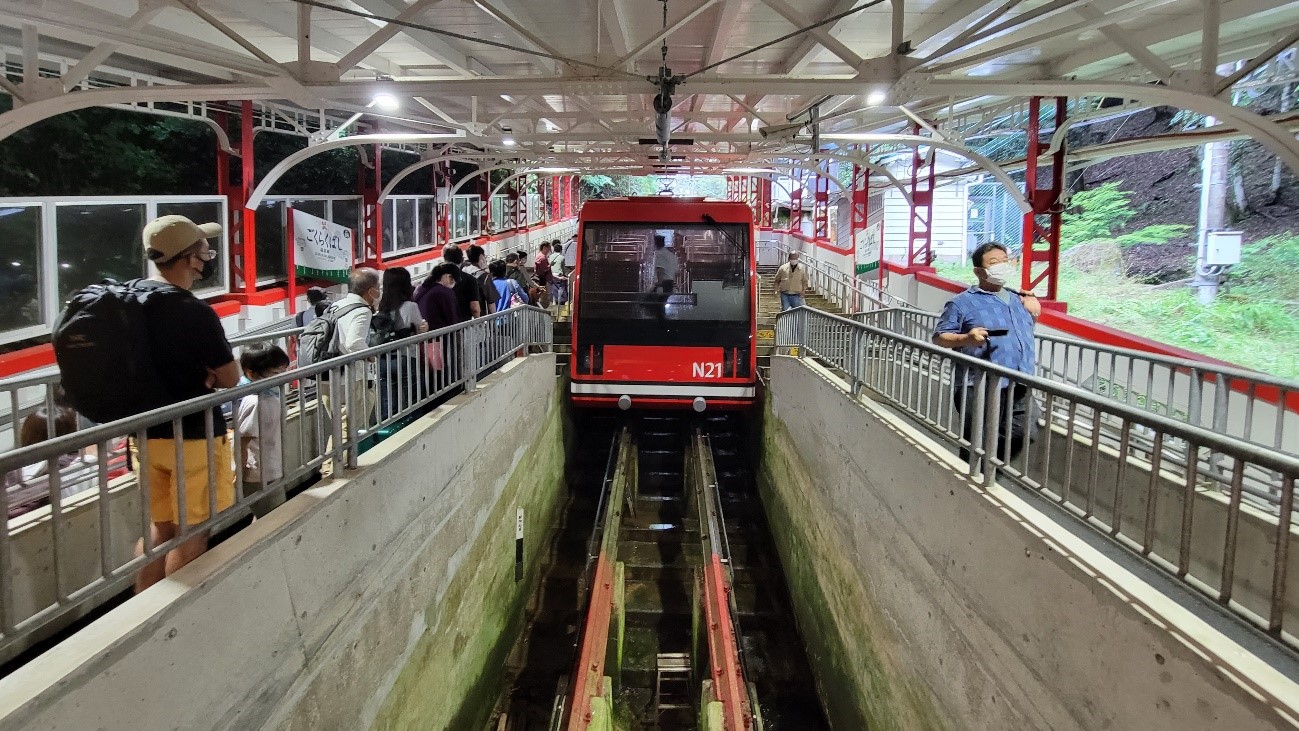 Okunoin:
The first day of the training is rainy day.
We walk through "Okunoin" to the mausoleum of Kobo-Daishi.
Okunoin is the most sacred site of Kobo-Daisi's mausoleum and serves as the center of the faith in Koyasan.
The approach to the mausoleum is about 2km long from "Ichinohashi" bridge.
Ancient cedar trees, some hundreds of years old, stand high on both sides of the approach.
Innumerable pagodas, monuments, and headstones, more than 200,000, erected throughout the history, memorialize people of all classes and standings.
These stones were from islands in Seto Inland Sea. And carried up by many people on the steep slope of the mountain.
There are tombstones called "Gorintou" which is composed of five stones piled up on each other. Many of them has "Torii Gate" made of stone in front of the tomb.
Just before reaching "Nakanohashi", there is the statue of the Perspiring Jizo and a small well in which the sight of your reflected face is said to augur well for a long life.
Before reaching "Gobyobashi", there is a rest spot where people can take Japanese tea.
Visitors take water from Tamagawa river, and pore it to "Mizukake-Jizo". It is believed that poring water to Jizo statues make spirits of the dead happy.
Crossing the "Gobyobashi" it is the most sacred place of Koyasan.
People pray for health and peace in front of Kobo-Daishi Gobyo.
It is believed that Kobo-Daishi, Kukai is still alive, and saves people very day.
So, "Shojin-Ku", or daily offering of foods to Kobo-Daishi is held every day.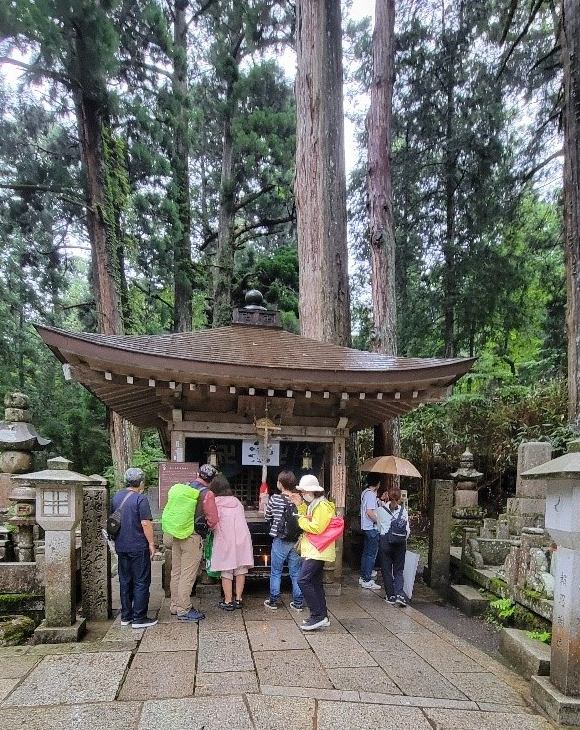 Stay at "Shukubo" temple
In this training, we have a chance to stay at "Shukubo" temple.
There are 117 temples in Koyasan in which 52 temples offer accommodation for visitors.
We checked in Jokiin.
Shukubo is a Japanese style house designed for Buddhist monks.
It has a Japanese style room which has tatami mats and sliding doors with beautiful paintings.
Shojin-Ryori is one of most popular cuisine in Japan.
It is originally cooked for Buddhist monks without using meats or fish.
Now it is popular vegetarian food known worldwide.
Tempura of vegetables and "Kuzu" starch, or "Goma Dofu" are arranged beautifully.
Sake or alcohol drink can be taken here.
After dinner, every body enjoyed talking with each other.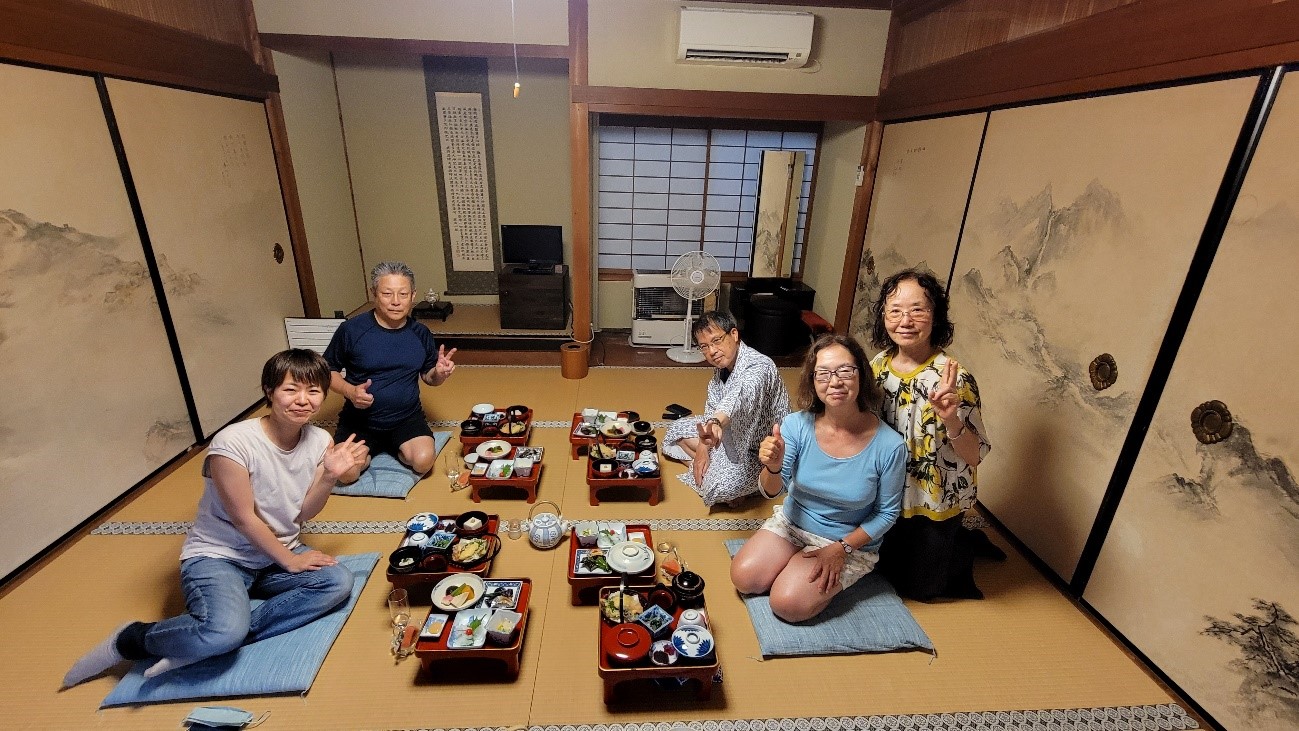 By Masanobu Tamura